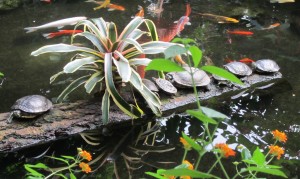 From the time I was a very small child, I grew up thinking and believing that it was my job to make things better for others and to take care of them. I thought it was up to me to fix them, to try to make them happy and to somehow keep peace in our house.
In fact, after high school I went to University and studied nursing because I felt that I wanted to learn how to really help others in a bigger way. I took my work very seriously and felt incredibly responsible for whether or not someone was able to improve.
I didn't know it at the time, though looking back on it now I realize that I personally carried the burden of others' unhappiness, depression and anger, as well as sickness and illness. It was an incredibly heavy load and there were times when I felt the stress of significant burnout during many of those years of my life.
When I finally decided I was ready and able to begin my own practice using alternative therapies initially, and later specifically focusing on Craniosacral Therapy, I still felt that it was up to me to make things happen and to fix what was wrong with myself and with others.
What I thought was a deep desire to be of service to others and to help them, was actually the continuation of an old pattern of feeling and taking responsibility for others' difficulties and challenges to the point of feeling guilty when I didn't succeed in making things better for them.
It has taken many years for me to slowly realize and to put into practice that it is not up to me to know how to fix anyone or anything. This includes myself. I've spent years trying to figure out what is wrong with me and then to make all kinds of attempts at fixing me.
I've told myself so many times that if only I "do this exercise (or tapping or whatever it may be), every day, I'm sure it will fix my self-esteem and I will finally be successful, meet the right man or have financial abundance." The cycles are crazy making and at times I felt much worse because it didn't seem to work at all.
The Simple Solution
What I've come to realize and learn over time is that all I need to do is to be with what is inside of me. I'm learning that when I drop inside to watch my thoughts, my emotions, my body, my energy and my connection to Divine right now, I can access my own Truth and begin to live from my heart.
This is one of the first steps of what Christian Pankhurst calls Heart Intelligence. By accessing what I know in each moment, I can know what is true for me now, as well as more and more of the time. It is a practice that requires dedication and time. With this specific focus, I feel profound shifts within myself as I use this method of witnessing on a daily basis.
If you find that this is touching your heart in a way that says "Yes, that is exactly what I've been looking for," I am incredibly excited to share that we will be learning and practicing these skills and many others at the Thursday evening Heart Circles called, Through the Looking Glass.
Community is an essential aspect of this practice. We need one another to assist in amplifying the field so that we can really learn and integrate this information, bringing it deeply into the cells of our being. The next circle will be meeting on July 12th at 6:30 at my office. You can check this out for more details.
I know that some of you do not live in the Victoria area and may feel that this is something you want to explore. Please contact me to explore the possibilities in having heart circles by phone or skype. If this truly calls you, let's find ways make it possible.
Namaste'
Cindy