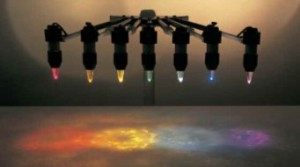 I am so honoured and excited to be able to offer Crystal Bed sessions to individuals from my office here in Victoria. Having  spent six weeks in Abadiania, Brazil in 2012, I received permission from the entities to bring a bed back here to Victoria for personal use as well as for all who are seeking healing in this way.
Though it is called a Crystal Bed, it is actually looks more like a lamp that utilizes seven crystals for each chakra that is suspended over the body while laying on the massage table. Coloured lights, chosen to match the frequency of chakra colours, radiate light and energy through the crystals to each respective chakra, and shine on and off in certain rhythms to cleanse, balance, and align your energies. The individual receiving the session rests face up with eyes closed, bathing in the energy.
The Crystal Bed combines the power of Colour Therapy and Crystal Healing Therapy. This energy stream created by this combination aids to provide beneficial stimulation on many physical and energetic levels of being. This combination of healing energies is further and greatly enhanced, by the "Healing Entities" of the Casa de Dom Inacio. These Healing Entities are the Spiritual Beings that work in and around the Casa de Dom Inacio and with all those deeply connected to the Casa family.
The coloured light shining through the crystals is a tool that the Entities use to channel their healing energy into the individual receiving the "Crystal Bed Healing". As the colour is transmitted through the crystal onto the corresponding chakra, the chakra is cleansed, energized, and brought into balance with all of the other chakras.
This allows the other aspects of our self, whether it be mental, emotional or physical to be brought into balance. For when the chakras are out of balance, all the other aspects of ourselves will also be out of balance. Then as these subtle energies are brought into balance, the body's own natural healing mechanisms are able to function as they was designed to do. The "Crystal Bed Healing" cleanses, balances and recharges the body's energy and creates a deep relaxation. It is also a great preventative modality.
The Crystal Bed I have been given to use is  accompanied by an angel that is connected to the entities at the Casa and will be assisting everyone who uses it to lighten and upgrade their light bodies to match the changing frequencies and current upgrades and frequency changes on the Earth.
For more details and to book your own crystal bed session please contact me.
I also wrote a blog when we were in Abadiania and you can find that here if you are interested in more specific aspects of what it is like to spend time at the Casa de Dom Inacio with John of God.